Prof. dr hab. Michał Ksawery Cyrański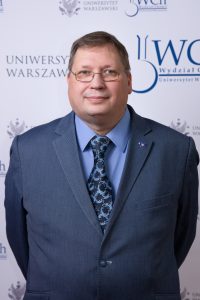 He is an alumnus of University of Warsaw. He obtained his master degree in 1994 and his doctoral degree in 1998. Both his Master thesis and doctoral thesis were prepared under the supervision of prof. dr hab. Tadeusz Marek Krygowski. In 1999 he completed a post-doctoral fellowship in the research group of professor Paula von Ragué Schleyera at the University of Erlangen-Nürnberg. He received his post-doctoral degree in 2008 and professor title in 2014.
His main research interests include structural chemistry of small organic compounds, cyclic π-electron systems, carbohydrates, supramolecular chemistry with use of boronic acids and pholoroglucinols, chemical crystallography, substituent effect, molecular modeling, quantum-mechanical calculations (ab initio), structural and energetic aspects of aromatic character of π-electron systems, relation between strain and aromaticity, definition of aromaticity. Since 2012 he has been a Head of The Faculty Laboratory of Advanced Crystal Engineering named after Jan Czochralski, where structural and physicochemical research of clathrates and hydrates of low molecular weight organic compounds – systems similar to natural methane clathrates – is conducted.
He serves as Head of Doctoral Studies in the 2020-2024 term.
Interests: classical music, singing in a professional choir, modern history, train models.